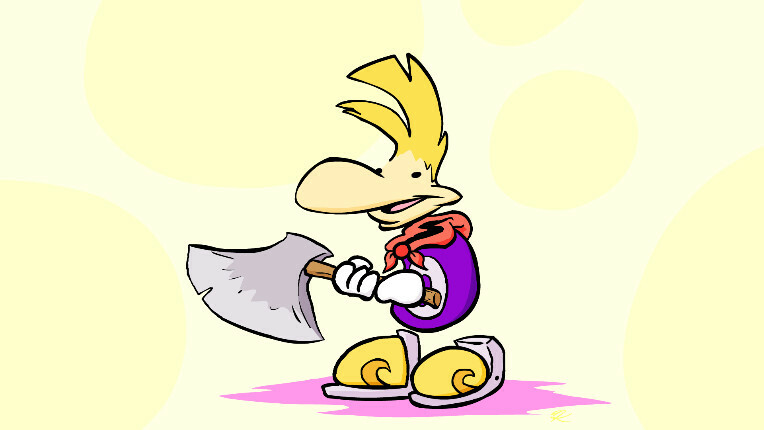 It's time for Rayman to chop your limbs off.
...I mean, it's time for us to talk about the new year.
In hindsight, 2019 was relatively quiet for me compared to 2018 on NG, but I still managed to accomplish creating a new short for the year with alien and bobcat advetnure, so I'm happy about that!
One goal I think I have for 2020 is to try making some new footage that might come closer to the output and quality of some of the cool places I've wanted to work at over this past decade. If possible though, I wanna do something dumb like alien and bobcat too, maybe even as a backup plan in case things get too busy. We'll see what happens!
Also wanna do more collaboration with others, bouncing ideas & feedback off of more cool friends and colleagues, and inviting others to help out on personal projects and short films. It's just no fun working remotely by myself, so I think the solution to that might be to get involved in some stuff and open the doors more, so to speak.
Overall this year ended up being a wild blur, hopping between a small variety of shows and projects like the Hobby Kids Adventures show I mentioned last time (that even has merch at Walmart now, like holy crap I have merch from a show I've worked on sitting on my desk now!!) and other neat things and events, some of which I can't talk about yet, and some of which I can't remember at the moment because that's how fast and crazy this year was. In a way, that's kind of a nice feeling to have.
Lastly, I ended up spending a majority of the year with Pencilmation, having just finished my 10th short with them at the start of the month and capping the year off with playing the teeniest, tiniest part in helping to launch the channel into being the third most-viewed on all of YouTube for 2019. Never could I have imagined anything I helped with would appear in one of those coughterriblecough YouTube Rewind videos, let alone grow to such incredible heights, but it's wonderful to see my work playing even a tiny part in something so big.
It sure does help warm my cold heart during this joyful holiday season.
Hope you all have a wonderful holiday, and thank you again for your support!
anyway, here comes Globox with his chainsaw axe, all set to help Rayman with chopping your limbs off: