We've entered another year, which means it's time for a small annual recap!
Looking back for a moment, it's interesting how 2020 was one of the busiest years I've had in a long time, yet still felt like a miserable year in the end. Aside from life milestones like getting my own place, I got to help on a lot of projects last year, ranging from shows to short films, games and even comics. Honestly, it was probably one of the most productive years I've had since 2011-2013... and maybe the exhaustion I'm feeling (along with everything else that happened) is part of why I still walked away feeling miserable.
I guess what also made it frustrating for me, however, is that almost no one will get to see most of the work I did last year for a long time, maybe not even this year. Part of that is my fault, but part of it is also the nature of the business, too. I can't help but always feel like I could do more to somehow get things out sooner.
My hope though is that maybe I'm wrong, and you'll start to see some of the things I've helped with appear in 2021. Fingers crossed!
As for 2021 plans, here's what's immediately around the corner from me personally. No idea why both things are coincidentally Sonic related, other than it just ended up that way. :P

My new webcomic Professional Relations went live this week! This was my pet project throughout 2020 whenever I needed the distraction, and after receiving interest in the comics I was making, I've started releasing them on Tapas for those who'd like to read them. I hope someday I can release these on Newgrounds too, but I'm waiting to see if we can maybe get support for comic uploads first, as the Art Portal doesn't seem equipped yet for this kind of content to my knowledge. It's been about five years since I ended Ask Spike Da Dragon, so having a new webcomic to work on again whenever the mood strikes is a nice thing to have.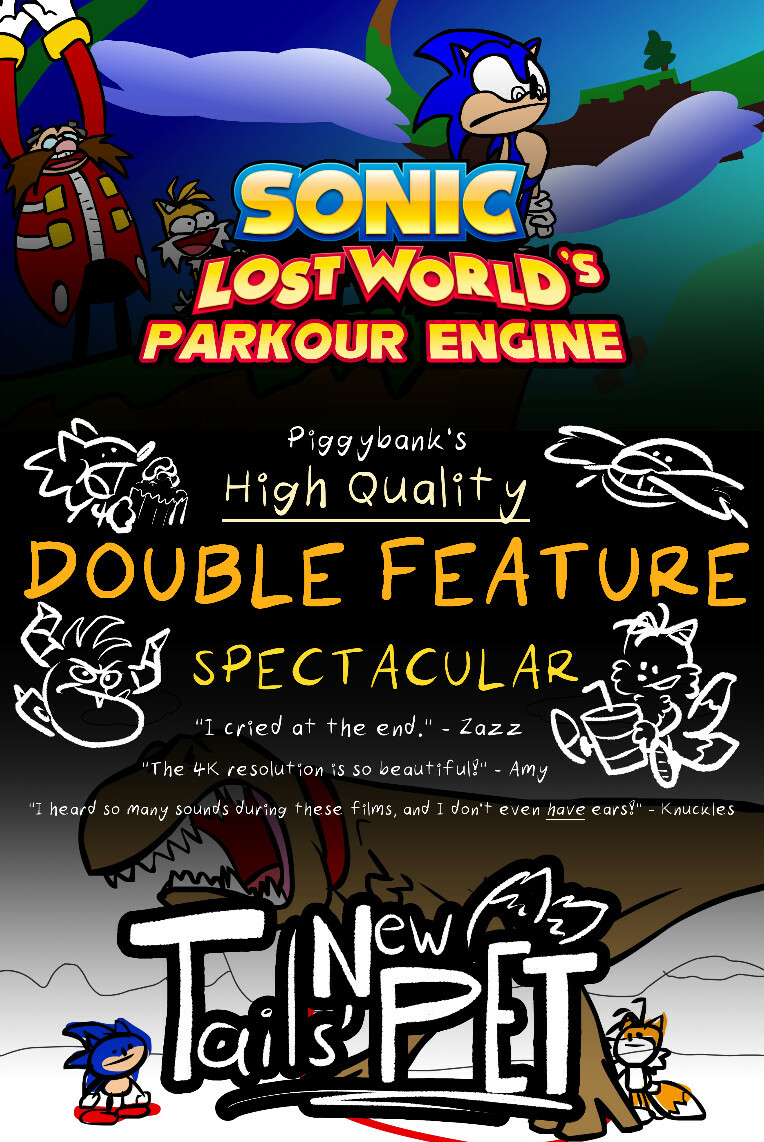 As announced recently by Sonic Paradox, they'll be releasing a remaster soon of two of my films from 2012 and 2013: Tails' New Pet and Sonic Lost World's Parkour Engine! These will be released in a double-feature that I'm putting together, featuring new audio, widescreen support, 4K resolution, and more. I'd also like to look into releasing this collection on Newgrounds, as neither of these shorts have been uploaded on here and I feel better uploading them now that they'll have new copyright-friendly audio accompanying them.
That's all for now, but there's likely more things to come!
Looking forward, I want to try pursuing more of my own projects going into this year, and experience having to direct and manage more team endeavors. I have so many irons in the oven now that it's becoming very difficult to keep up on my own, so I want to look into my options for adapting to this new and very humbling demand I seem to be experiencing.
okay I'm done typing for now, thank you, see you later!